▶ Watch Video: Arnold Schwarzenegger's climate crusade
Venice Beach, California, has a kind of timelessness, from the sandy shoreline, to Gold's Gym, where you can see heroes past – and very much present. On any given day, the gym's most famous patron, Arnold Schwarzenegger, will be here pumping up.
Smith asked, "Why come here? I'm sure you have a nice home gym?"
"I have a nice home gym – how did you know?" Schwarzenegger laughed. "I like working out with people."
Around here, he's quick to give pointers to anyone who looks like they need help (including a "Sunday Morning" correspondent). As an athlete and a coach, Arnold (as he is often addressed) is pretty impressive.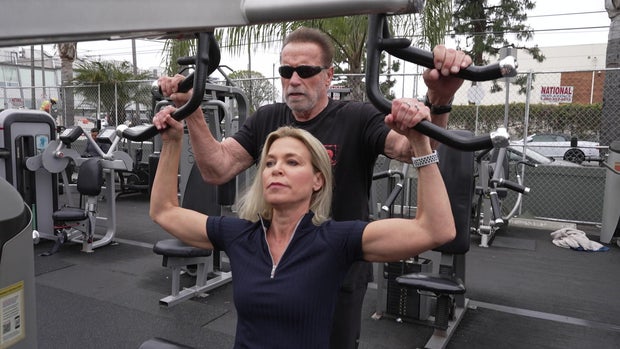 Smith asked, "We just saw you working out. You don't look 75. Do you feel 75?"
"I wouldn't know what that feels like!" he replied. "I feel very good. And I feel full of energy. But I think the most important thing is to keep active, and to keep the mind active. So, to me, life is about living, not existing."
And his life has become something of a legend. He's the poor Austrian kid who conquered the sport of bodybuilding. The movie star who, with his 1986 marriage to Maria Shriver, became part of the Kennedy clan. The real estate mogul who was elected governor of California.
Schwarzenegger's films were often box office gold, and a reliable font of one-liners. In 1994's "True Lies," he played an undercover CIA agent, with Jamie Lee Curtis as his unsuspecting wife. It was the inspiration for his newly-premiered Netflix series, "FUBAR," where he is again a CIA agent with family issues.
At an age when most people retire, Schwarzenegger is still an action hero.
"This is the first TV series that I've done," he said. "It was a lot, a lot of work. I have never really worked that hard in my life."
What?  "Well, television is just so much faster. You do like, you know, 10, 12 pages sometimes a day. But I loved it. I have never had more fun than doing this."
But he says he's had to work through a chapter in his personal life that was less than heroic. In 2011 Schwarzenegger admitted to an affair with his former housekeeper, Mildred Baena, with whom he had a son. The revelation shook his family, and his public image.
Smith asked, "You had some things going on that, especially, women weren't too pleased with. Did you feel like you had to come back from that?"
"I was not that concerned about coming back from anything; I was more concerned about just making sure that everyone is okay in my family," he replied. "Because my kids were still young, so Maria and I, we really had to work on raising them together. And my wife did a fantastic job with that. We worked really well together. And so, we can be very proud of the job that we did under the circumstances."
"And you work really well together now, it seems. What's your relationship like with Maria?"
"Well, she is, you know, my best friend, and we talk pretty much every day," Schwarzenegger said. "And, you know, I respect her, and I think she's a wonderful lady."
He says his youngest son, Joseph Baena, is like him in more ways than one, following in his footsteps: "Every step. Joseph is in the real estate, he's into acting, and he's into bodybuilding, and all of those things. It's kind of like the apple doesn't fall far from the tree."
There's a Netflix docuseries coming out soon, "Arnold," that promises to be the most candid look yet at his past. But Schwarzenegger is also working on his legacy.
Earlier this month, the ancient walls of Vienna's Hofburg Palace echoed with a familiar voice: "I call for change. Change is never easy, but this is an emergency, and this emergency demands action. … Build better. Build cleaner. Build now. Build, build, build. We can do it. As our motto here says, we have the power."
For the past eight years, Schwarzenegger has been holding the Austrian World Summit, a gathering with a goal to reduce the impact of climate change.
Except he hates the phrase climate change: "As long as they keep talking about global climate change, they are not gonna go anywhere. 'Cause no one gives a s*** about that. So my thing is, let's go and rephrase this and communicate differently about it and really tell people we're talking about pollution. Pollution creates climate change, and pollution kills."
Smith asked, "Are you on a mission to save the world?"
"I'm on a mission to go and reduce greenhouse gases worldwide," he replied, "because I'm into having a healthy body and a healthy Earth. That's what I'm fighting for. And that's my crusade."
The Vienna conference wasn't all about work: the men at this table are his hometown friends, some of whom he's known since he was six years old.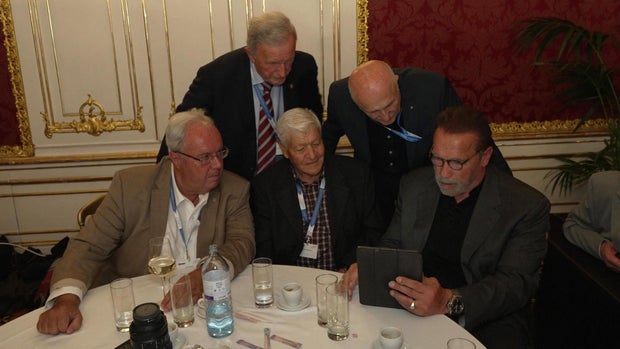 "I bought them an iPhone so we can talk every week," Schwarzenegger said. "And we have the greatest time laughing about it, talking about the good old days, and what we are doing now. And the funny thing is also, it's kind of like, the health problems, because when you get older, you talk more about that than when you are young. And so, this is the kind of stuff that we end up talking a lot of times, when we talk about health issues. That's funny, you know, when you get to be 75."
You can take the kid out of Austria, but you could sense that this Austrian native was happy to be back on his home turf.
He's been back to this part of the world many times. Last fall, Schwarzenegger, whose father was a soldier under the Nazi regime, toured Auschwitz, and in a series of online videos he had repeatedly denounced both the Nazis and hate in general.
On a bike ride through old Vienna, the governor pointed out some of the city's charms, like the cobblestone streets. He also showed Smith a new piece of art: A mural of himself that was (appropriately enough) larger-than-life.
"There's got to be something special about having this here in your home country," said Smith.
"In Austria, I developed my dreams, and the dreams of being a movie star," he replied. "So, in my days, I saw huge advertisements of, you know, Clint Eastwood movies and John Wayne movies. And I was saying, 'Oh, wouldn't it be wonderful to be like that, to be one of those guys?' You know, now you roll the clock forward a few decades, and then you look back, and you say, 'Ah, there I am! My dream became a reality!'"
Arnold Schwarzenegger has said that most limits are illusions. Still, even with his boundless optimism and iron will, there are things even he can't do.
But when asked if he wished he could reenter politics to run for U.S. president, he replied, "No, no. I'm finished with that. I would have run if I would have been an American-born in 2016. Because it's the only thing that I can't do in America. I would never complain about that.
"America made everything that I have achieved possible," he said. "So, I'm not gonna take this one thing and say, 'Oh, isn't it sad that I can't do that?' Forget about it."
For more info:

Story produced by John D'Amelio. Editor: Mike Levine. 
© 2020 CBS Interactive Inc. All Rights Reserved.