A police sergeant in Ohio was placed on paid leave after a video surfaced of him repeatedly punching a Black woman in the head while arresting her outside of a McDonald's in Butler Township, police said.
The video shows two police officers, identified as Sgt. Todd Stanley and officer Tim Zellers, struggling with a woman. Zellers seemingly holds a Taser up to the face of the woman, identified as Laticka Hancock, when Stanley strikes her three times.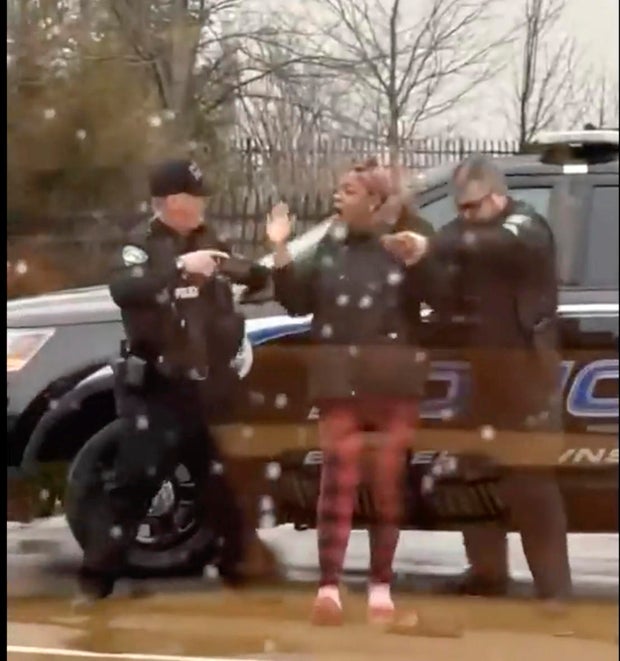 A screengrab from video showing Butler Township officers Sgt. Tim Zellers, left, and Todd Stanley, right, restrain and arrest Laticka Hancock outside a McDonald's restaurant in Butler Township, Ohio, on Monday, Jan. 16, 2023. The officers said Hancock resisted arrest, and video shows Stanley strike Hancock.
Mario Robinson / Local News X/TMX via AP
Attorney Michael Wright, who is representing Hancock, said during a press conference Wednesday that she ordered McDonald's and realized that the order was missing cheese that she paid extra for, so she went back into the restaurant to get her order corrected. Wright said that the chef in the McDonalds asked Hancock to pay an extra 30 cents for the addition when she pulled out a receipt to prove her order was incorrect.
The manager told Hancock to leave the store, Wright said, and that the police were called. He said that Hancock waited in the McDonald's parking lot for police to arrive so that she could tell them her version of events.
Wright said Stanley and Zellers arrived at the scene and they asked Hancock for her ID.
"This should not have happened," Wright said. "These officers were totally out of bounds."
Dayton Unit NAACP President Derrick Foward, who joined Wright and Hancock during their press conference, said that a Taser was also held up to her face. He called for Stanley to be fired and Zellers' suspension.
Butler Township Police Chief Jim Porter said in a briefing that Stanley was put on leave following public backlash from the incident so that "we [Butler Township Police Department] could complete this with as little distraction as possible."
Zellers hasn't been placed on leave, Porter said.
"I don't want people to feel like I'm complaining for a piece of cheese," Hancock said. "The message behind everything is misconstrued."
Butler Township police said that the Ohio Attorney General's Bureau of Criminal Investigation, the FBI and the U.S. Attorney General's Office are all investigating the incident.