▶ Watch Video: Marking four years since Paul Whelan was detained in Russia
Russia's FSB security service said Thursday it opened a criminal case against a U.S. citizen suspected of espionage, as ties between Moscow and Washington disintegrate further over the Kremlin's nearly year-long Ukraine offensive.
"The Federal Security Service of the Russian Federation initiated a criminal case against a US citizen on the grounds of a crime under the 276 'Espionage' Article of the Criminal Code," the FSB said.
"The American is suspected of collecting intelligence information in the biological sphere, directed against the security of the Russian Federation," it added.
It gave no further details.
Ties between Russia and the United States, already strained for years, have reached new lows since President Vladimir Putin sent troops to Ukraine last year.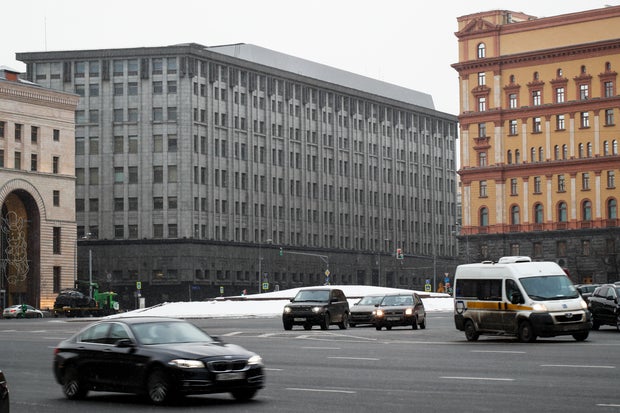 FSB (Federal Security Service) headquarters, the grey building at the center, in downtown Moscow, Russia, Dec. 30, 2016.
AP
Several Americans are currently in detention in Russia and both countries accuse each other of political arrests.
There have been several high-profile prisoner exchanges between Moscow and Washington.
Last month, Moscow freed U.S. basketball star Brittney Griner — arrested for bringing cannabis oil into the country — in exchange for Russian arms dealer Viktor Bout.
Paul Whelan, a retired U.S. Marine, was arrested in Russia in 2018 and given a 16-year sentence on "espionage charges."
"We've not forgotten about Paul Whelan," President Biden said after Griner's release on Dec. 8. He went on to say that the U.S. "will never give up" trying to negotiate for Whelan's freedom.
In a written letter shared to Instagram last month, Griner asked her supporters to write letters to Whelan and "advocate for other Americans to be rescued and returned to their families."
"Thanks to the efforts to many, including you, I am home after nearly 10 months," she wrote. "You took time to show me you cared and I want to personally take the time to write to you and say that your effort mattered. Your letters helped me to not lose hope during a time where I was full of regret and vulnerable in ways I could have never imagined."