This content is provided by Washington Gas.
Upgrading your home to be more energy-efficient can be costly. In fact, furnaces and water heaters can be some of the most expensive equipment homeowners can buy. While high-efficiency water heating and furnace equipment can be costly up-front, choosing energy efficient models can save you money over the life cycle of the equipment.
There is also more good news. Washington Gas customers have options to help make these projects more affordable. Here are four ways you can lower the cost of energy efficient upgrades.
1. Take advantage of tax credits
ENERGY STAR products are independently certified to save energy, making them a smart investment for energy efficiency you can count on. New federal tax credits make ENERGY STAR certified equipment even more attractive. Credits can cover 30% of the project cost up to $600. Federal tax credits may require exceeding Washington Gas efficiency requirements for rebates, check eligibility requirements at energystar.gov/taxcredits.
2. Use Washington Gas rebates to save on home heating
As much as half of the energy used in your home goes to heating and cooling. That's why choosing ENERGY STAR certified heating equipment can have a big impact on your household budget. Compared to other models, ENERGY STAR certified furnaces are about 15% more efficient. When you add in up to $805 in rebates for Maryland customers, or up to $700 if you're in Virginia, you're talking real money.
Here's something else to consider. If your furnace or boiler is over 15 years old, it's probably heating your home inconsistently and may be close to failing. You can avoid the hassle and extra costs of equipment failure by replacing your old unit with a new ENERGY STAR certified model.
Maryland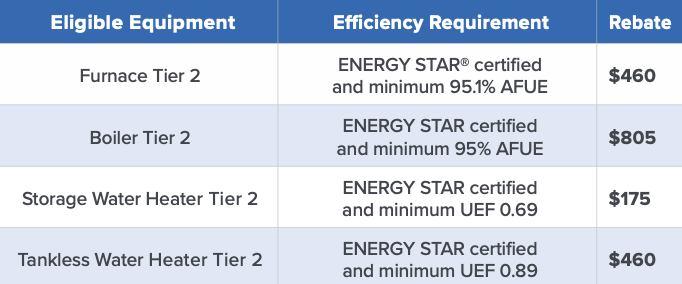 Virginia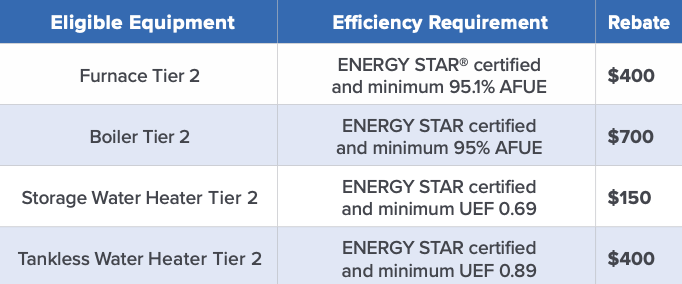 3. Use a Washington Gas rebate to purchase a new water heater
After heating and cooling equipment, water heaters are the second biggest energy user in your home. When you choose an ENERGY STAR certified natural gas water heater, you'll get all the hot water you need, while also saving energy and money.
ENERGY STAR natural gas storage models have superior insulation and are more efficient than their standard counterparts. In fact, they can save a family of four up to $460 over the unit's lifetime compared to a standard natural gas water heater. Additionally, Maryland customers can receive up to $460 in rebates, while Virginia residents can get rebates up to $400.
4. Finance your eligible projects
Ready to upgrade, but concerned about the upfront costs? Maryland residents can take advantage of special financing opportunities created specifically for those purchasing high-efficiency home heating and water heating equipment.
Through the Clean Energy Advantage (CEA) Loan Pilot Program, Washington Gas residential customers can get a preferred interest rate on their loans. Plus, get 0% interest for the first 12 months.
Benefits of a clean energy loan include:
Low fixed rate—helps avoid charges from a high-interest credit card.
A range of term options.
Reduced up-front costs for high-efficiency products and services.
Up to 10 years to pay off your loan.
If you're a Virginia resident, you can find information on energy efficiency rebates, tax credits and more here.
Act now and upgrade for less
You never know when tax credits or other incentives will change, so you'll want to take advantage of these opportunities as soon as you can.
These energy saving program offerings are funded by the Virginia Conservation and Ratemaking Efficiency (CARE) Plan.