▶ Watch Video: "The Daddy Diaries": Andy Cohen on becoming a parent
It turns out interviewing your closest friend is not so easy. I met Andy Cohen nearly 30 years ago. He had really long hair then, and was a young producer at CBS News.  Over the years we've become really close. We vacation together, spend New Year's Eve together, and both of us decided to become dads in our early fifties.
Lucy, Andy's daughter, just turned one; his son, Benjamin, is four. I have a three-year-old son, Wyatt, and a one-year-old named Sebastian.
It turns out we both wanted to have kids for similar reasons.
Cohen said, "Your mom loved that Peggy Lee song, 'Is That All There Is?' That's where I was. I was approaching 50, and I heard that song in my head. I was like, 'There's gotta be a greater purpose for me. This is wonderful, and I absolutely love it. But there has to be a greater purpose.'"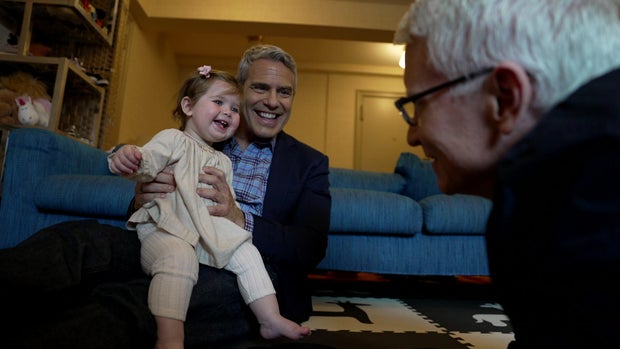 Parenting, he said, "has changed me in every way. I mean, I think my priorities have completely shifted. I think my sense of accomplishment has totally changed. And even just getting your kids breakfast and getting them out to school, when I drop him off at school, I'm like, 'You did it, dude! That was a rough two-and-a-half hours, you know?'"
Cohen asked Cooper, "Has Wyatt moved to a toddler bed yet?"
"No. What is your obsession with toddler beds?"
"Well, uh-huh, call me when Wyatt moves to a toddler bed. It is hell."
"How hard can a toddler bed be?"
"Oh, you are messing with your life!" Cohen laughed. "Basically, what we're all doing, with all due, is keeping our children in a cage, which is the crib, okay? No, I mean, they can't get out. … But, like, the toddler bed is a nightmare, because they now have free will. And they are coming to you at all hours. All of the rules? No more. The lines are blurred. And the power shifts. Young Benjamin holds the keys to the castle."
Cohen writes about his new life with kids in his fun and fast-paced new book, "Daddy Diaries: The Year I Grew Up," the third in a bestselling series of diaries he's written. It's about the high highs and low lows of being a single dad who also works long hours in the center ring of an often-manic media circus. Cohen has two radio channels on SiriusXM, a book imprint, a late-night talk show on Bravo, and he presides over the "Real Housewives" franchise as an executive producer and host of those drama-filled reunions.
Cohen said, "I think this book is really as much a statement about pop culture in the year 2022 as it is about being a father, or my life and what I do."
How so? "Because I think it's a reflection on how pop culture works in a weird way."
Cooper said, "The sheer number of, like, celebrity encounters you have – it's like, 'Oh, Meghan McCain texted me. And Cher. And Jane Fonda gave me advice about raising a girl.'"
"I love dropping names!" Cohen laughed. "And I feel like, if you're gonna write a book like this, that's inspired by Andy Warhol's diaries, you better be prepared to drop some names. And I think that's one of the reasons why I latch onto this format so much, because I think it's fun. When you're hosting a talk show, you're interacting with everyone who's kind of in the mix, and in the zeitgeist. And I'm certainly trying to create water-cooler moments that feed into that pop culture machine."
In the book, Cohen writes, "I can't believe how much my life has changed, how much I'm building for my family's future. It's a heaviness I've never felt, but also a sense of sureness that feels good."
What, Cooper asked, is the heaviness?
"It's interesting, I've never, as I think you know, I am not someone who worries," Cohen replied.
"I've never met anybody who is as happy, and optimistic, and enjoys their life more than you," Cooper interjected.
"And I think this year for the first time, I think having Lucy, my second child, I think suddenly I was like, 'Wow. I have two kids. I'm doing this alone.'"
"Obviously you have help?"
"Yes."
"Doing this without a partner, did that give you great pause?"
"I'm happy to say it didn't," Cohen replied. "I just thought, 'I wanna do this. And I'm doing it. And I know it's gonna be really hard, and I don't know what that actually means.'"
"Has it changed the way you think about finding somebody to be involved with? I mean, is the bar a different bar for what the person needs to be like?"
"I think so," said Cohen. "Yeah. I mean, I think that some, you know, go-go dancer that you would be trying to set me up with three years ago maybe wouldn't be the – "
"I tried to set you up with a go-go dancer?"
"No, but why haven't you?" Cohen laughed.
Cohen often Instagrams about some of the joys and frustrations of being a parent. "If I spend three hours with Ben, and then I have to go to work, you know, you're at work, and you're like: Did I spend enough time with Ben today?  If Ben tells me that I'm his best friend or he grabs for my hand to hold it, or he cuddles me extra tight, I mean, there's not gonna be a bigger win in my day than that."
"That's sweet," said Cooper.
"You're sweet. Marry me!"
"Do you wanna get married someday?"
"To you?"
"No."
"Was that a proposal? Are you proposing?" asked Cohen. "Do I wanna get married? I gotta tell you something. Not only do I love love, but how fun would my wedding be?"

For more info:

Story produced by Reid Orvedahl. Editor: Remington Korper. 
© 2020 CBS Interactive Inc. All Rights Reserved.