The 65th annual Grammy Awards will be live on Sunday, Feb. 5, honor the best of the music industry, with comedian Trevor Noah returning as host. The show promises a packed lineup of contemporary stars, iconic veterans and promising newcomers, and will include special big-name performances to celebrate the 50th anniversary of hip-hop.
The Grammys will be broadcast live from Los Angeles, starting at 8 p.m. ET Sunday, on CBS television stations and will stream live and on-demand on Paramount+.
Beyoncé leads this year's nominees, with nine nods from the Recording Academy. Kendrick Lamar follows closely behind with eight.
Beyoncé performs on stage in Dubai, United Arab Emirates, on January 21, 2023.
Kevin Mazur/Getty Images for Atlantis The Royal
All eyes will be on a handful of races for the Grammys' highest honors — and the outcomes could prove to be less predictable than usual, for more reasons than one.
Answering public calls for inclusion, both in front of and behind the scenes, the Recording Academy has undergone significant shifts in recent years. The academy's voter base, previously accused of racial and gender bias, changed dramatically last fall, when it welcomed a new membership class "composed of nearly 2,000 diverse music creators and professionals," the organization said in a statement at the time, which noted that the move came as part of a conscious and ongoing effort to continue "cultivating a community that embodies the ethnicities, genres and crafts that power the music industry."
Sunday's Grammys ceremony will be just the second to include a larger number of nominees — 10 — in each of the Big Four categories: Record of the Year, Album of the Year, Song of the Year, and Best New Artist. The Recording Academy announced its plans to increase the number of slots from eight to 10 nominees in those categories at the end of 2021.
The competition is especially stiff this year. Here are the records, albums and artists to watch in the Grammys' Big Four categories.
Record of the Year
The Grammy for record of the year considers the artist on a single track, as well as the producers, recording engineers, mixers and mastering engineers who helped bring it to life. This year's nominees, all of whom are also nominated for performance awards in their respective genres, include a number of industry legends.
Perhaps the most contentious rivalry — in this category as well as several others — will be between Adele and Beyoncé, who are again competing against each other for several awards. In this category, Adele's "Easy On Me," a critically-adored ballad and the first single off her latest album "30," is up against Beyoncé's dance-hall anthem "BREAK MY SOUL," from "Renaissance," which was met with similarly widespread acclaim.
This is Beyoncé's ninth time being nominated in this category, an all-time record, although she has never won before. Adele, a two-time winner and this year's only nominee who has already taken home a prize for record of the year, would join the ranks of Paul Simon and Bruno Mars in a tie for most wins in the history of the category if she were to win a third time this Sunday.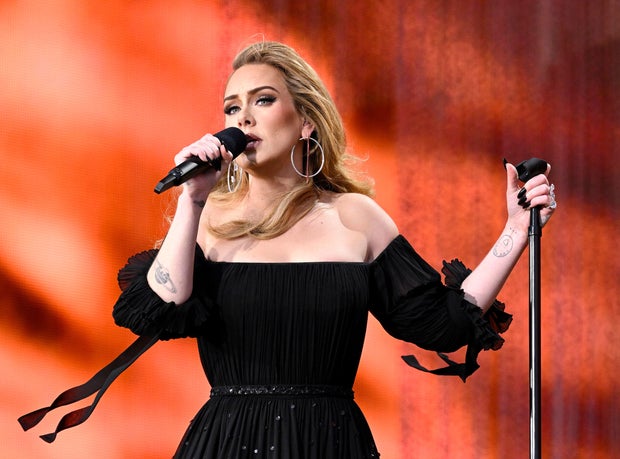 Adele performs in Hyde Park on July 2, 2022, in London, England.
Gareth Cattermole/Getty Images for Adele
Several other nominees for record of the year also have a shot to win. The contenders are: "Don't Shut Me Down" by ABBA, "Good Morning Gorgeous" by Mary J. Blige, "You And Me On The Rock" by Brandi Carlile featuring Lucius, "Woman" by Doja Cat, "Bad Habit" by Steve Lacy, "The Heart Part 5" by Kendrick Lamar, "About Damn Time" by Lizzo and "As It Was" by Harry Styles.
Alongside "Easy on Me" and "BREAK MY SOUL," a number of the other nominated records were commercial smash hits, with "Bad Habit," "About Damn Time," "As It Was" and "Woman" at one point ranking in the top 10 on the Billboard Hot 100 chart. Rolling Stone placed Lacy's "Bad Habit" at No. 3 on its list of best 100 songs of 2022.
Carlile, Lamar and Doja Cat have each been nominated twice before in this category, while ABBA, owing to their highly-anticipated comeback album after four decade, Blige, and Lizzo have each been nominated once during past awards seasons. Lucius, Lacy and Styles are first-time nominees for record of the year.
Album of the Year
Album of the year — an award given to artists, featured artists and songwriters of new material, as well as producers, recording engineers, mixers and mastering engineers — will be chosen from a pool of potentials that is nearly identical to the nominations for record of the year.
The nominees in this category are: "Voyage" by ABBA, "30" by Adele, "Un Verano Sin Ti" by Bad Bunny, "RENAISSANCE" by Beyoncé, "Good Morning Gorgeous (Deluxe)" by Mary J. Blige, "In These Silent Days" by Brandi Carlile, "Music Of The Spheres" by Coldplay, "Mr. Morale & The Big Steppers" by Kendrick Lamar, "Special" by Lizzo and "Harry's House" by Harry Styles.
Lizzo performs on NBC's Today show at Rockefeller Plaza on Friday, July 15, 2022, in New York City.
Charles Sykes/Invision/AP, File
Many of this year's nominees for album of the year have received previous nominations in the same category — this is the fourth nomination for Beyoncé, the third for Adele and Coldplay, and the second for Carlile and Lizzo. But Adele, who took home this prize for her last two studio albums, "21" and "25," is the only current contender who has won the award before.
She somewhat notoriously won album of the year for "25" against Beyoncé's "Lemonade" in 2017, a decision that sparked some public backlash and bias accusations against the Recording Academy. Even Adele seemed to disagree with the decision, saying in her acceptance speech: "The artist of my life is Beyoncé. 'Lemonade' was so monumental, Beyoncé, and so well thought-out and so beautiful and soul-baring and we all got to see another side to you. … I love you and I always have and I always will."
Making history in contention for 2023 album of the year is Bad Bunny, whose yearning fourth studio album "Un Verano Sin Ti" — a chart-topping sensation and critical success, which held No. 1 on the Billboard 200 for 13 consecutive weeks and whose hit single, "Titi Me Preguntó" leads Rolling Stone's best of 2022 compilation — is the first Spanish-language album ever nominated for this award at the Grammys.
Song of the Year
The prize for song of the year is awarded to songwriters, for singles or tracks that were either released or first achieved prominence during a given Grammys eligibility period.
This year's contenders are: "abcdefu" by GAYLE, "About Damn Time" by Lizzo, "All Too Well (10 Minute Version) (The Short Film)" by Taylor Swift, "As It Was" by Harry Styles, "Bad Habit" by Steve Lacy, "BREAK MY SOUL" by Beyoncé, "Easy On Me" by Adele, "GOD DID" by DJ Khaled featuring Rick Ross, Lil Wayne, Jay-Z, John Legend and Fridayy, "The Heart Part 5" by Kendrick Lamar and "Just Like That" by Bonnie Raitt.
Taylor Swift poses in the press room during the American Music Awards on November 20, 2022, in Los Angeles, California.
Tommaso Boddi/WireImage
Swift has now received six nominations for song of the year, although she has never won a Grammy in this particular category. Adele, meanwhile, has won twice — for "Rolling in the Deep" off "21" and "Hello" off "25" — but, like her acceptance speech for album of the year in 2017, the artist dedicated her remarks after winning song of the year for "Hello" to Beyoncé, who was nominated for "Formation."
Beyoncé last won song of the year in 2010, for "Single Ladies (Put a Ring On It)."
Best New Artist
The Grammys' coveted best new artist accolade is awarded annually to one performer whose music "achieved a breakthrough into the public consciousness and notably impacted the musical landscape" during a given season's eligibility period, per the Recording Academy. It is the prize frequently credited for propelling a relative newcomer toward superstardom, with past winners including Mariah Carey, Christina Aguilera, Alicia Keys, John Legend, Adele, Sam Smith, Dua Lipa, Billie Eilish and Megan Thee Stallion.
For the first time since 2017, none of the year's Grammy nominees for best new artist have received nods in other top four categories.
The nominees for best new artist are: Anitta, Omar Apollo, DOMi & JD Beck, Muni Long, Samara Joy, Latto, Måneskin, Tobe Nwigwe, Molly Tuttle and Wet Leg.
Several contenders are also competing in best album categories, with "Wet Let," by Wet Leg, nominated for best alternative music album; "Crooked Tree," by Tuttle, nominated for best bluegrass album; "Linger Awhile," by Joy, nominated for best jazz vocal album; and "Not Tight," by DOMi & JD Beck, nominated for best contemporary instrumental album.
Latto's "Big Energy," the rapper's hit single off her album "777," is independently nominated as well in the Grammys category for best melodic rap performance. The popular track's standout success on the charts sets Latto apart from her best new artist competitors, although just two women rappers, Lauryn Hill and Megan Thee Stallion, have won in this category before.
How to watch the 2023 Grammys
What: The 65th Annual Grammy Awards
Date: Sunday, Feb. 5, 2023
Time: 8 p.m. ET / 5 p.m. PT
Location: Nokia Theater, Los Angeles
On TV: CBS television stations – find your local station here
Online stream: Live and on-demand on Paramount+
The Grammys pre-telecast ceremony, during which many awards will also be announced, will take place from 4 p.m. to 6:30 p.m. ET and can be streamed live here on the Grammys website.