▶ Watch Video: Communities adapt to rising seas
Our sea levels will remain elevated for thousands of years.
Scientists around the world agreed on that in last week's U.N. report about climate change, which found it is "unavoidable for centuries to millennia due to continuing deep ocean warming and ice sheet melt, and sea levels will remain elevated for thousands of years."
One of the problems with sea level rise is that it happens slowly, a tiny bit each year, making it a threat that people have an easy time ignoring.
We do that at our own peril, according to Mark Merrifield, director of the Scripps Center for Climate Change Impacts and Adaptation.
"Over time, it is just undeniable. The measurements all say the same thing. The glaciers are melting and the ice sheets," Merrifield said while standing on the Scripps Pier, a hub of scientific activity on the campus of the University of California, San Diego.
Thirty percent of Americans live in a community near a coastline. And while those people don't have the power to unilaterally solve the underlying problem of climate change, some communities are now grappling with how to adapt to sea level rise by constructing new defenses, restoring natural defenses, or just moving out of the way.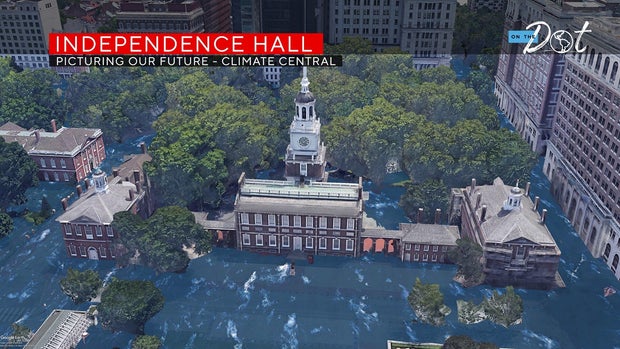 Picturing Our Future by Climate Central are different projections showing how the energy choices made this decade will influence how high sea levels rise for hundreds of years.
Hardening infrastructure
There are a lot of ways to adapt to sea level rise. Daniel Zarrilli has an intimate understanding of how New York City is doing it. He is the special adviser on climate and sustainability at Columbia University and was recently the city's chief climate policy adviser.
"Sea level rise is relentless. It's not like a storm or, you know, an acute impact. It's just going to keep coming," he told me during a recent visit.
A new report from the National Oceanic and Atmospheric Administration predicted by 2050, on the East Coast, there will 10-14 inches of sea level rise.
In New York City, with 520 miles of coastline, the projection for 2100 from Climate Central, a nonprofit that analyzes climate change data, shows how storm surge, which is an abnormal rise in sea level caused by a storm, compounded by expected sea level rise would impact much of the city's coastline and be particularly bad on lower Manhattan's eastern side.
To protect the city, New York is building the East Side Coastal Resiliency Project. It's a 2.5-mile long, 16.5-feet-tall sea wall. Zarrilli took us on a tour of the wall from a vantage point on a boat that navigated the East River.
"The right solution for every part of the city is going to be different. In this case, lower Manhattan, high density, 110,000 people live in the flood protected area of this project alone. There's almost no other choice," Zarrilli said.
Tom Foley, the construction commissioner for New York City, gave us a tour of the new sea wall construction that's integrated into a tiny footprint inside a crowded neighborhood. Here, there will be 18 floodgates that will be open all the time for people to pass through, until there's an emergency. The gates slide shut, and the wall is designed to keep out storm surge.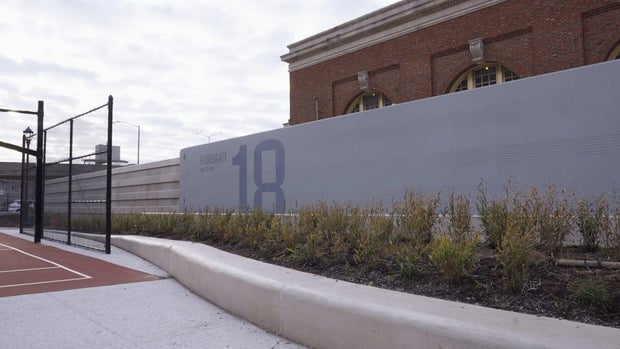 The East Side neighborhood where Foley is building, near Bellevue Hospital, was heavily flooded 10 years ago during Superstorm Sandy, a sign of things to come.
I asked him if he thinks it's likely that New York will experience floodwaters that reach the top of the new 16.5-foot floodgates he's building.
"Potentially, yes. And I think that with the wave propagation, with sea level rise, with climate change, that it could happen. But we will be prepared," Foley says.
Zarrilli says New York is fortunate to have the resources, many of which flowed from federal recovery funds from Sandy, to afford this level of protection. He says most cities around the world do not.
"It's really an existential risk to coastal cities all over the world to think about how to adapt and where we build, how we build it. It raises some fundamental questions of what our shorelines look like, what our coastlines look like," he says.
Restoring natural defenses
Another way to adapt to sea level rise is by enhancing natural protections. That's happening at the dunes and wetlands of Ormond Beach in Oxnard, California, on the Pacific Ocean.
"So, wetlands have a superpower: They're able to buffer against rising seas. Dunes, wetlands can absorb floodwaters and protect the communities behind," said Alyssa Mann from the Nature Conservancy, which is leading the project.
We traveled to Oxnard to see the wetlands for ourselves.
Standing on the windblown beach, Mann said much of Southern California's coast used to look like this: an endless system of beaches, dunes and marshes protecting against the threats of the ocean. Today, Ormond Beach is one of the last remaining examples of that.
A coastal risk screening tool from Climate Central shows that by the end of the century, a major storm, compounded by sea level rise, would likely push storm surge into many Oxnard neighborhoods and swamp Naval Air Station Point Mugu to the south.
Over the years, Ormond Beach has been chopped up for farmland and industry. The plan now is to restore the size of the marsh and make it into a larger buffer space for floodwaters. That means buying up surrounding land, including an adjacent power plant, and returning the land to its natural state.
"When California was developing, we built right up and sometimes on top of dunes and lost that natural protection. And so, part of what we're thinking about here in California is where could we make space for to restore nature's protection?" Mann asked.
And this isn't just about saving fancy beach houses. In Oxnard, expanding these natural defenses will also protect the working-class community that lives closest to the dunes.
Odette Moran is a community organizer in the Hispanic community in South Oxnard. She's a strong supporter of rebuilding natural defenses against sea level rise.
"I strongly believe if we fortify that relationship between us and nature, instead of trying to fight it all the time and come up with different solutions, I think, that relationship that could really potentially save a lot of lives and protect health," she says.
Managed retreat
Down the coast in San Diego, 350 miles of train tracks are the only rail connection between here and Los Angeles. The iconic Pacific Surfliner train transports 8 million riders a year and carries $1 billion in freight.
As the train approaches the San Diego area, the ocean views from inside the train are amazing. But as we learned while visiting San Diego, some of the cliffs are eroding.
As sea levels rise, waves can push in farther, pounding the base of the cliff. Here they are considering another kind of adaptation called managed retreat, where a decision is made to relocate instead of fighting the sea. There is serious discussion about relocating the tracks, at cost of up to $4 billion.
As the erosion of sea cliffs grows because of sea level rise, the train tracks get closer to falling into the water.
"The cliffs are vulnerable to this, undercutting from the wave action," said Merrifield of the Scripps Center.
The Scripps Institution of Oceanography at UC San Diego is a global leader in climate science. They've been measuring rising sea levels for decades.
"It's pretty clear that something has to be done," Merrifield says. "This is a good time to think about a solution for the train. I don't think there is a whole lot of time left," he added.
Scripps is trying to get ahead of the kind of cliff collapse that, in 2019, killed three people at a popular surfing beach nearby in Encinitas.
"We're trying to understand the processes that are driving the erosion and how fast they're acting on the cliffs," says Adam Young, who studies coastal erosion for Scripps.
Once a week, Young's team at Scripps uses a truck — with an image scanner on top — to map the face of the cliffs down to the millimeter. Week by week they can detect if rocks have fallen off. They're hoping to use the data to create an early warning system for cliff collapse.
But ultimately, this country has a lot more than train tracks to worry about. Our coasts are lined with industry, roads and people's homes. That's why California's Coastal Commission is requiring that communities prepare adaptation plans for encroaching sea level rise.
"For you and me, in our lifetime, we won't see the kind of changes you're talking about," Merrifield said. "But for our children, our grandchildren, we're leaving them with a very, very uncertain future that will no doubt be far more challenging than what we're facing now," he added.
Sea level rise, driven by climate change, is a slow-motion problem that's easy to ignore.
But pay attention and it's clear, from coast to coast we've got a lot of hard decisions to make about how we're going to adapt.