Rap star Drake has been revealed as the new owner of the late Tupac Shakur's crown ring, which he purchased at auction for over $1 million on Thursday.
Shakur wore the custom, self-designed ring on his left ring finger during his final appearance at the 1996 MTV Video Music Awards, a little over a week before his shooting death in Las Vegas at the age of 25. The adornment had "Pac & Dada 1996" engraved on the band, in reference to the artist's engagement to actress Kidada Jones.
Drake confirmed that he was the ring's mystery buyer, posting a photo of it on an Instagram story. Sotheby's, the auction house that sold the piece of jewelry, also confirmed to CBS News in a news release that the Grammy-winning rapper is the crown ring's new owner.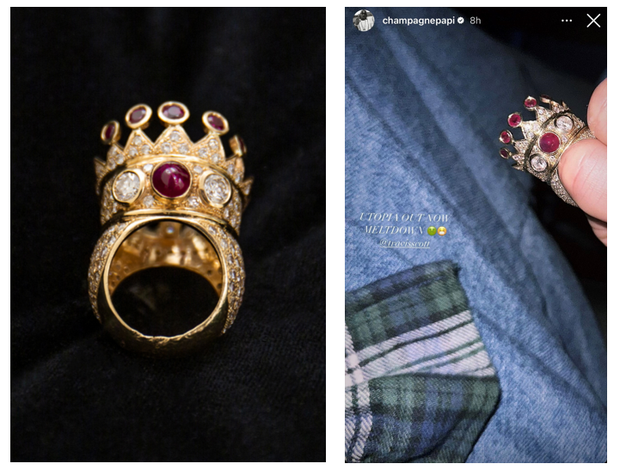 The ring sold for triple its initial estimate of $300,000, making it the most valuable hip hop artifact ever sold at auction, according to Sotheby's. It is also the only hip hop artifact to exceed a price of $1 million.
The singer and activist designed the ring with his godmother, Fula, over the course of several months in 1996, Sotheby's said.
He had been released from prison in late 1995, where he had served time for a sexual abuse conviction, and then signed a deal with Death Row Records. He was also working on launching a media group called Euphanasia.
"Reflecting his recent affinity for Niccolo Machiavelli's political manifesto 'The Prince,' Tupac modeled his design after the crowns of the medieval kings of Europe in 'an act of self-coronation,'" the statement said. "According to Fula, a celebration of survival through a tumultuous year in an oft tumultuous life."
The crown-shaped ring features a large ruby surrounded by two pavé diamonds. Sotheby's says Shakur chose the ruby as the principal stone because the gem is symbolically tied to the archetypes of monarchy and wealth.
Last week, Las Vegas police revealed that they had searched a home in Henderson, Nevada, in connection with the investigation into Shakur's murder. The home belonged to 60-year-old Duane Keith Davis.
The investigation into Shakur's killing has been ongoing for nearly three decades.
In 2019, Greg Kading, a retired Los Angeles police detective, alleged to CBS News Los Angeles that Shakur's murder had already been solved after Davis — also known as Keffe D — confessed to his involvement in the killing of Shakur while being questioned in connection with the murder of Biggie Smalls.
— S. Dev and Gina Martinez contributed to this report.