How to listen to WTOP during our tower renovation project
WTOP will be making improvements to our coverage area and the consistency of our FM broadcast signal. Renovations to our signal tower (located on the campus of American University) have begun and target completion date is the first few weeks of February 2020.
From now through February, technicians will renovate and install a new antenna on the 419-foot tower on American University's campus. When work is complete, WTOP's broadcast signal will reach approximately 400,000 more people, particularly in the suburbs of northern Virginia and parts of Maryland. Existing and new listeners will experience better reception and less interference.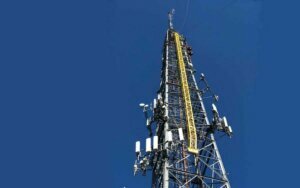 During the antenna installation period, WTOP will operate from its backup site in Wheaton, Maryland. We anticipate continuing to serve the majority of our coverage area with a signal that is similar to what is received today. Audiences listening via smart speaker, WTOP app or online stream will be completely unaffected. We anticipate coverage to be similar to normal for those who rely on WTOP as a companion during their commute by car. In-home listening stands to be impacted the most, as there could be some short-term impact primarily in pockets of the outermost edge of our core listening area. We anticipate the signal received throughout the region to be substantially stronger than ever once this work is complete.
Frequently Asked Questions
How can I listen to WTOP while the preparation work and tower project is underway?
If you encounter issues with listening or your signal, try one of the following:
If there is any way to reposition the radio closer to a window (particularly one that opens to the south or east), or move the antenna (which may be part of the radio's AC cord), you might be able to get clearer reception.
Try picking us up on our relay station in Braddock Heights/Frederick at 103.9 FM or 107.7 FM in Virginia, south of the Beltway.
Call to listen at (202) 380-9977.
Listen to our live online stream here.
Download the WTOP app to listen live on Apple or Android.
Listen live to WTOP on Alexa, or just say "Alexa, play WTOP".
I can hear the station signal just fine. Why are you doing this?
The ability for people in our area to hear WTOP varies widely. Some listeners get a perfect signal, some experience static, and some people who should be able to hear the station get no signal at all. The new antenna will broadcast a clearer signal to our current listeners, and it will allow our signal to reach 400,000 more people within our licensed broadcast area. Reaching the entire listening area with a clear signal helps us deliver on our mission as a public media organization. In addition, our transmitter will also be upgraded to a more energy-efficient system, helping to reduce our carbon footprint.
Will I hear a difference in the signal after the work is complete?
If you already had a great signal, probably not. But if you found the signal hard to find or fuzzy you will likely have a much better listening experience after the work is complete.
What areas of the region will be impacted?
Listeners who stream or use smart speakers to access WTOP will not be impacted. Because we will be broadcasting from a tower in Wheaton instead of our tower in northwest DC, the change could impact pockets at the outermost edge of our core listening area and those who live closest to our tower on American University's campus whose radios may have been accustomed to receiving a very strong signal. Others living close to the backup tower in Wheaton may actually experience improved reception. Again, we expect the experience for listeners in the DC region to be largely similar to our normal signal, with impact predominately isolated to pockets of our fringe signal area located outside of our core listening area.
Who can I contact about this?
If you have additional questions, please contact our Director of Technology, George Molnar at (202) 895-5120 or Gmolnar@wtop.com
Our new antenna will provide us with robust backup capabilities from the AU site, and replaces decades-old hardware with a more efficient design and stronger construction. We're pretty excited about the upgrade, and the opportunity to serve you even better very soon.
All the best in 2020 and thanks so much for listening!